FREE Christmas Events 2023
Tis the season to be jolly, and I'm thrilled to bring you a sack filled with joy in the form of FREE Christmas events for the 2023 Holiday Season! As the year draws to a close, the Christmas spirit surrounds us all, and what better way to celebrate it than by partaking in festivities that won't cost you a dime. From enchanting light displays that adorn homes and city streets to heartwarming community gatherings; there's no shortage of ways to immerse yourself in the holiday spirit without breaking the bank. These events offer an opportunity to create cherished memories with loved ones, share in the warmth of the season, and spread the message of goodwill. So, whether you're into caroling, gingerbread houses, or sipping cocoa by a crackling fire, let's embrace the most wonderful time of the year and make it even more special with these fabulous, free Christmas events!
This event will have you stepping into a world of pure imagination! The 29th Annual Sheraton Grand Seattle Gingerbread Village theme this year is The Chocolate Factory. I have gone to see the Sheraton Gingerbread Village many times over the years and it has never disappointed. It is one of my favorite things to do around Christmas time! The craftsmanship and creativity will keep guests of all ages captivated! I should also add that while this event is free, they will be accepting donations at the door that will directly benefit the Juvenile Diabetes Research Foundation's Northwest Chapter. So, if you can give, it goes toward a worthy cause.
Snowflake Lane's magical parade is returning this year!  Along with it, free complimentary sights from character performances to floats, to lights and nightly snowfall. If you get there early enough, you can use one of the free parking garages nearby. You'll also want to get there early enough to grab a front row spot on the sidewalk.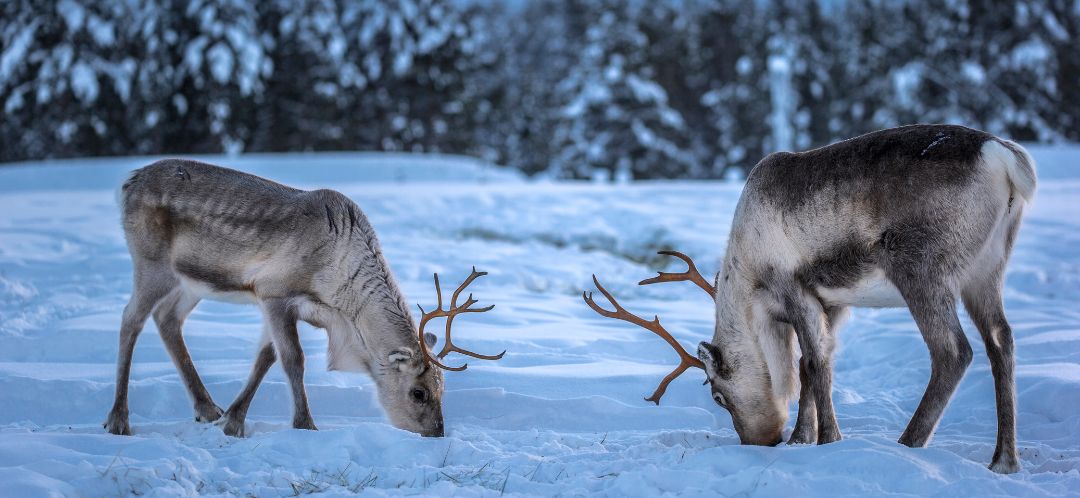 If you're like me and you believe that reindeer are better than people, then this is the event for you! On Saturday, November 25th join the city of Everett for a unique opportunity to meet two live reindeer. Dasher and Dancer! This festive duo will be relaxing and preparing for their upcoming important journey. Keep in mind they will arrive the day after the Everett tree lighting ceremony on the 24th.
Prepare yourself for a delightful realm of cuddly companions! The annual Teddy Bear Suite is making a return at the Seattle Fairmont Olympic Hotel. Families are welcome to explore the suite and cozy up for some memorable photos. You'll find the room on the hotel's second floor. Although this event is complimentary, on-site donations are gladly received, with all proceeds going to support Seattle Children's Hospital. 
The Home Depot is coming in clutch this year with two festive crafts! On November 25th they're hosting a kids' workshop where your little ones can create an adorable penguin ornament. Then, on December 2nd, get ready to assemble your very own Gingerbread House. Best of all, it's all FREE! This includes the featured craft kit and all the materials needed to complete the build! These cute crafts are offered only while supplies last and do require registration. I strongly recommend you head over to their website, linked HERE, to discover what is being offered at your local Home Depot and to register you kiddos!
This event offers holiday spirit seekers an opportunity to see extravagantly decorated trees and wreaths before they are auctioned at the Holiday Gala & Live Auction on Friday, December 1st. There will be free activities as well as opportunities to donate to the cause. Activities will include live entertainment, photos with Santa, Children's Crafts, a Teddy Bear Store (for purchase), and raffles (for purchase).
Experience the enchanting Festival of Trees, a delightful and engaging holiday celebration. Play a fun game of spotting adorable woodland creatures cleverly hidden on storefront windows throughout Mill Creek Town Center. Discover all four of them, and you'll have the chance to win a fantastic prize! Due to popular demand, this event is making a return for its second year, and our very own Windermere office at Mill Creek Town Center is joining in the festive fun. Embark on a quest to locate the charming holiday critters adorning the windows of Mill Creek Town Center Main Street. Once you've found them all, submit their locations via QR code for a chance to win an exciting prize! For additional event details, please visit the event page.
The Evergreen Christmas Light show is the perfect setting to drive out the Washington winter darkness. Eat Evergreen's FREE famous chocolate chip and gingerbread cookies, while you warm yourself from a heated viewing area. The music choreographed light show lasts for 30 minutes and runs back-to-back from 6:00-9:00pm; from a tunnel light with a snowstorm that dusts every 30 minutes to a heated indoor train and village display there are plenty of photo opportunities along the way. For more information on the event please visit their website at Christmas at Evergreen.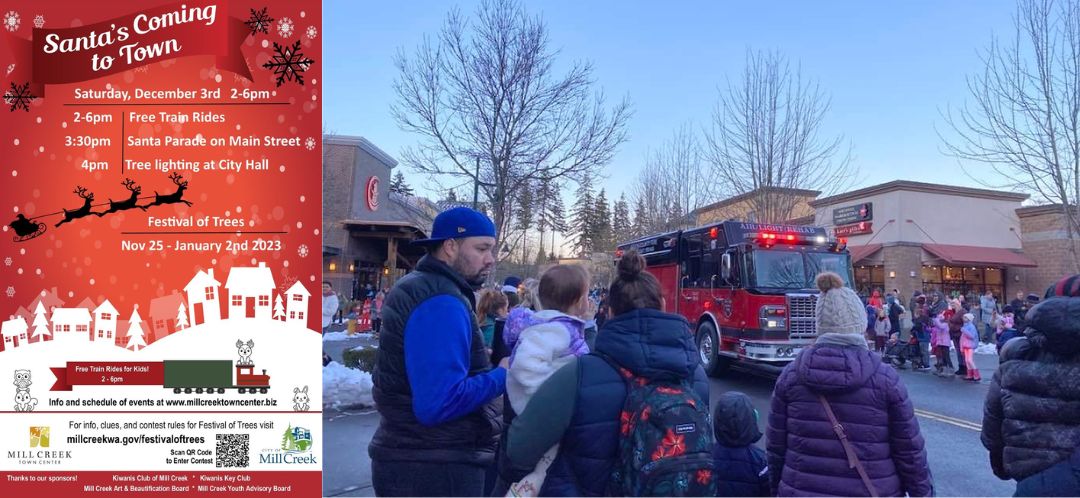 Santa is coming to town! That's right! The Santa Parade will be returning to main street at the Mill Creek Town Center. There will be free train rides offered from 2-6pm. The Santa Parade will start at 3:45 and the tree lighting will be at 5:00 PM at City Hall. There will also be an appearance from the jolly man himself, Santa!
After the Santa Parade on December 2nd stop by our Windermere office to meet none-other than the Grinch! Remember to bring your phone or camera to snap off your portrait! We can't wait to see you there!
Rain or shine, head to Port's Pacific Rim Plaza, close to Hotel Indigo, for a day of outdoor fun. There's a holiday market, and lots of free stuff for kids to do, like decorating cookies, making crafts, getting their faces painted, checking out a fire truck, meeting Christmas characters, and watching a tree-lighting with Santa. Plus, there's a cool parade of boats all lit up, and you can catch holiday movies at a drive-in (but you need to reserve your spot). And to top it off, there will be festive music and pretty lights everywhere. I recommend dressing in layers and bringing gloves because every year I have gone it's been FREEZING.
Here's a cool way to enjoy a holiday tradition. Use PNWCL's Holiday Light Map for a do-it-yourself tour. I really like cruising around to see all the festive lights. It's super comfy in the car with the heater on, sipping cocoa, and munching on holiday cookies. Okay, I'm not usually the driver, but I still love it. There's just something magical about the twinkling Christmas lights and getting to enjoy all the hard work our neighbors put into spreading holiday cheer.     
The Edmonds Holiday Trolley is making a comeback for its ninth year, featuring the festive tour guide, Emily the Elf. Jump aboard the holly jolly trolley for a brief journey through downtown Edmonds, where you can soak in some town history along the way. After stoking your yuletide cheer, explore the shops and eateries you passed by to discover what delights they have in store! Who knows, you might stumble upon the perfect Christmas gift to cross off your list!
Attending the annual Green Lake Pathway of Lights is a festive way to kick off the holidays. The lively crowd, adorned in twinkling Christmas lights, creates a magical atmosphere. Enjoy complimentary refreshments and live holiday music near the Community Center. The hot air balloon glow is from 4:30 to 5:30, weather permitting, but the main events are rain or shine. Arrive early to be part of the enchanting Green Lake illumination! 
Lowes is calling all little elves to join their band of merry Red Vest experts for this jolly Holiday Delivery Truck build that's also a gift card holder! This event requires registration and is offered only while supplies last. Additionally, at 1:00 pm walk-ins are accepted on the day of the workshop, so if you have not shown up for your build, it may be given away. If you're interested in signing up your little ones, I recommend you head over to lowes.com, linked HERE, to register! 
Check out Your Local Tree Lighting Event!
All over Washington State | Dates Vary

❄
Many of these tree lighting ceremonies have other holiday events attached to them. I would recommend following the hyperlink to the city pages to confirm dates, times and activities.
As I wrap up this festive guide to FREE Christmas events in 2023, I hope you're as excited as I am for the joyous season ahead.
From the enchanting Sheraton Grand Seattle Gingerbread Village, where generosity meets craftsmanship, to the magical Snowflake Lane parade that promises nightly snowfall and character performances, there's an abundance of heartwarming experiences waiting for you. Whether you're strolling through Mill Creek Town Center in search of woodland critters or enjoying the twinkling lights on the Pacific NW Christmas Lights GPS Self-Guided Tour, these events offer not only free festive fun but also opportunities to make a positive impact in our communities. May your holiday season be filled with laughter, love, and the warmth of shared moments. Merry Christmas and Happy Holidays to you and yours!
Kerriann Jenkins