Where to see the top 5 best blooms in Washington State 
Going to see the flower blooms is a good way to bid adieu to the winter gray gloom as they are a colorful cheery reminder that Spring truly does exist here in Washington and that the sun shines enough to encourage things to grow through the rainiest of weather.  Keeping weather in mind, blooms are often unpredictable in their nature because weather variables can cause the buds to either reach maturity earlier or later than predicted. Typically speaking though, there is a correlation in bloom time that if the weather is warmer the buds will bloom earlier and if it is a colder year the buds will bloom later. This year for instance we are in a late bloom season because of the snow that has persisted into spring. Keep in mind as you read on that everything blooms in its own time, so the dates provided below are just tentative time frames.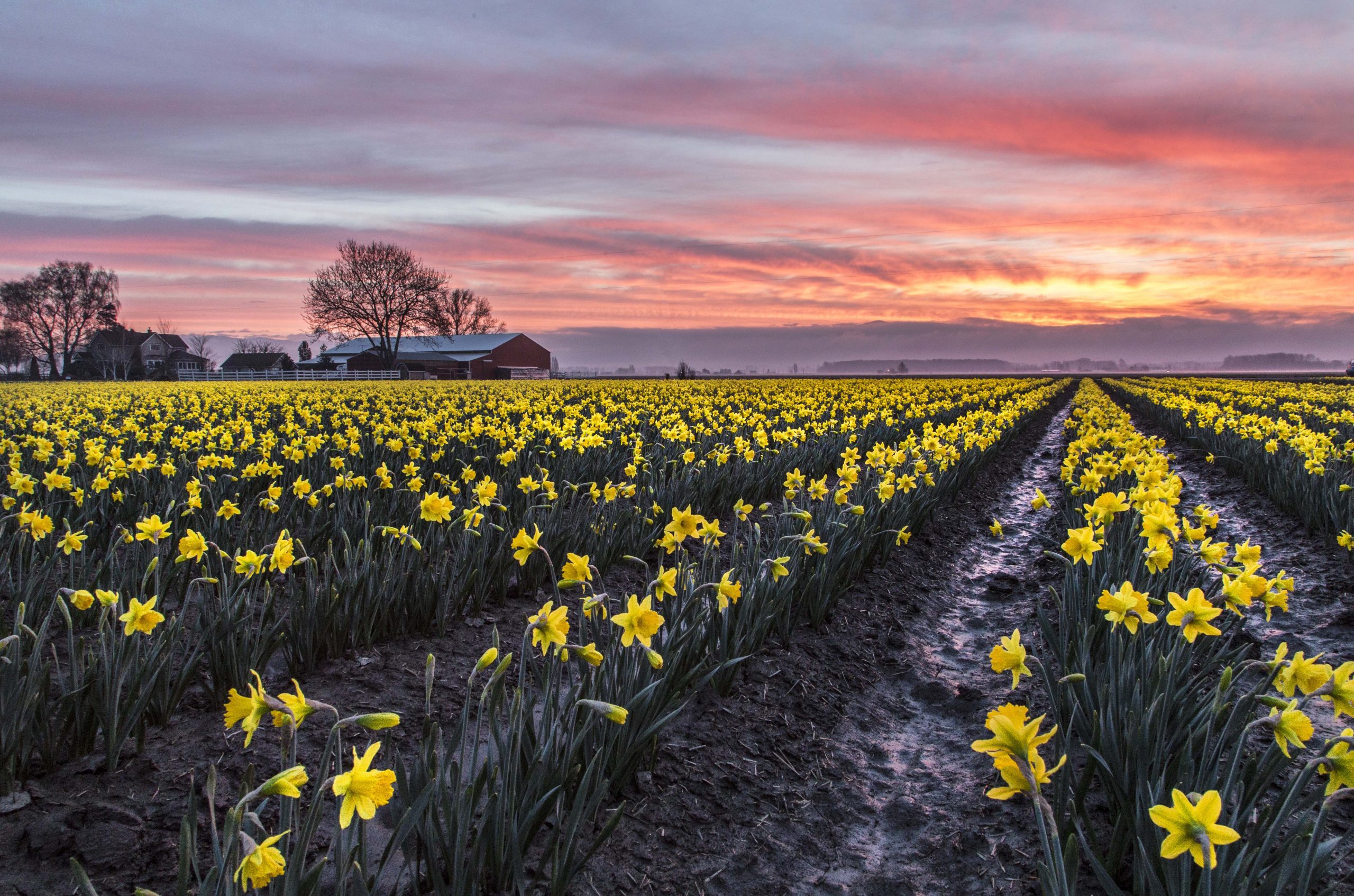 1.)   Daffodils in Skagit Valley  
(Bloom as early as March and as late as May) 
Starting with the "first blooms" of spring, the Daffodil fields begin brightly shining in Skagit County as early as March and as late as April. You can take a free self-guided drive tour around the blooming fields and stop on the roadside for photo opportunities but keep in mind these fields are privately owned so try to resist the urge to walk into them. Snow Geese flock to this area during this timeframe so you may get the added bonus of seeing them soar over the daffodils as you view the flowers from the comfort of your vehicle. If you're in the area during the right timeframe, you can also visit La Conner during their Daffodil festival. You can plan your tour by using this bloom map: Skagit Valley Tulip Festival Bloom Map – Visit Skagit Valley – North Cascades National Park to Farmlands to Salish Sea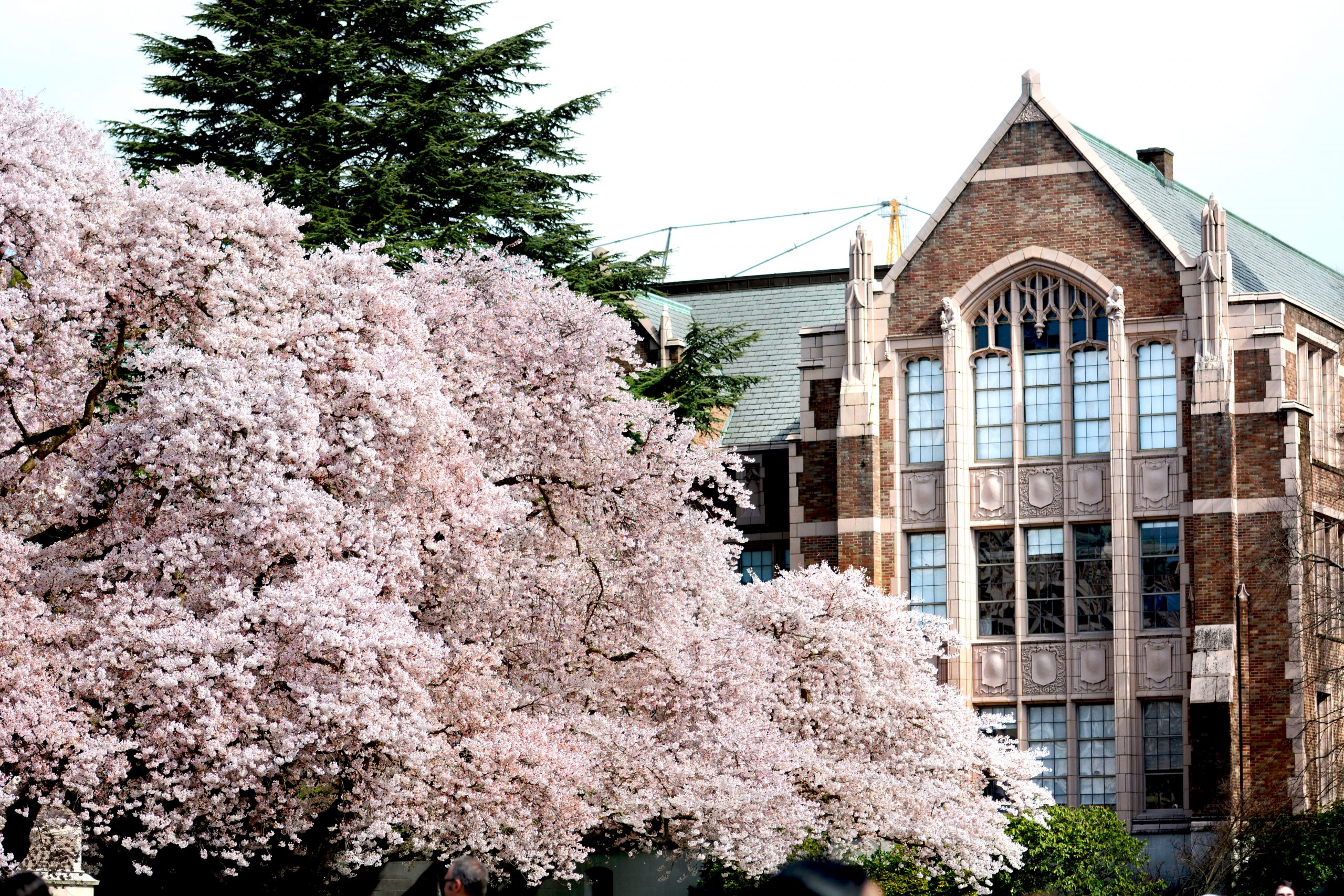 2.)   UW Cherry Blossoms in Seattle 
(Full Bloom Mid-March) 
The iconic UW Cherry Blossom trees start showing their pink of perfection around the third week of March. There is no clear recorded history of where the trees came from, though rumor has it they were possibly donated to Seattle by the Mayor of Tokyo in 1912 and were transplanted from Washington Park Arboretum to UW's quad in 1984. The trees that line UW's quad are around 90 years old and have bloomed every year since their planting and just as you would refrain from hanging off the limbs of your 90-year-old grandmother, you should also plan to refrain from climbing or shaking these trees. Despite their age and viewing limitations the Cherry Blossom blooms still draw large crowds. You can check up on these trees to see them in bloom using UW's Cherry Blossom Webcam at: Campus Webcams | UW Video (washington.edu) or you can use this interactive map which is maintained by the Seattle Department of Transportation to view other Cherry Trees around Seattle: Trees for Seattle | Street Trees (arcgis.com)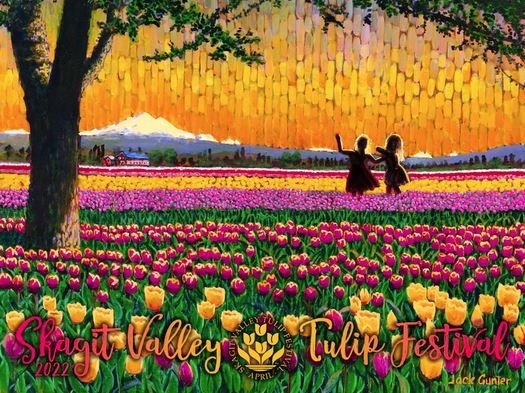 3.)   Tulips in Skagit Valley
      (Late March-May)  
RoozenGaarde and Tulip Town both offer ticketed entry to view their cultivated tulip gardens by foot. From my experience RoozenGaarde offers wider rows of tulips of the same color and Tulip Town has their colored rows closer together. Both yields beautifully impactful photographs though so you can't really go wrong visiting one over the other. You can find out more information about RoozenGaarde at Fresh Cut Flowers & Spring Flowering Bulbs: Tulips.com and you can find more information about Tulip Town by visiting: Tulip Town.  
About two weeks after the Daffodils bloom, Skagit valley becomes alive with a rainbow of brilliant colors courtesy of the Tulip blooms. Unlike the Daffodils which aren't as well known, the Tulip Fields have gained worldwide recognition for their beauty, most likely because they are a little more interactive than their predecessors. 
4.)   Lavender Fields in Sequim  (Late June-August) 
Lavender blooms in Washington state throughout the Summer and the Sequim Lavender Festival is a good draw to visit the area to see and smell the aromatic purple blue blooms in a visually impactful setting. Sequim has gained a reputation for being the "Lavender Capitol of North America" and there you will find over 20 locally owned lavender farms to visit. The 2022 Sequim Lavender Festival will take place from July 15th– 17th and you can bet there will be plenty of fragrant flowers to see, purchase, smell and even eat. To find out more about the festival you can visit Sequim's City managed website at: Attend Local Festivals | Sequim Tourism, WA – Official Website (visitsunnysequim.com). By visiting that page, you will also see that Sequim encourages visitors to do their farm research before visiting the Lavender fields because each farm has their own individual entry times, fees and attendee expectations.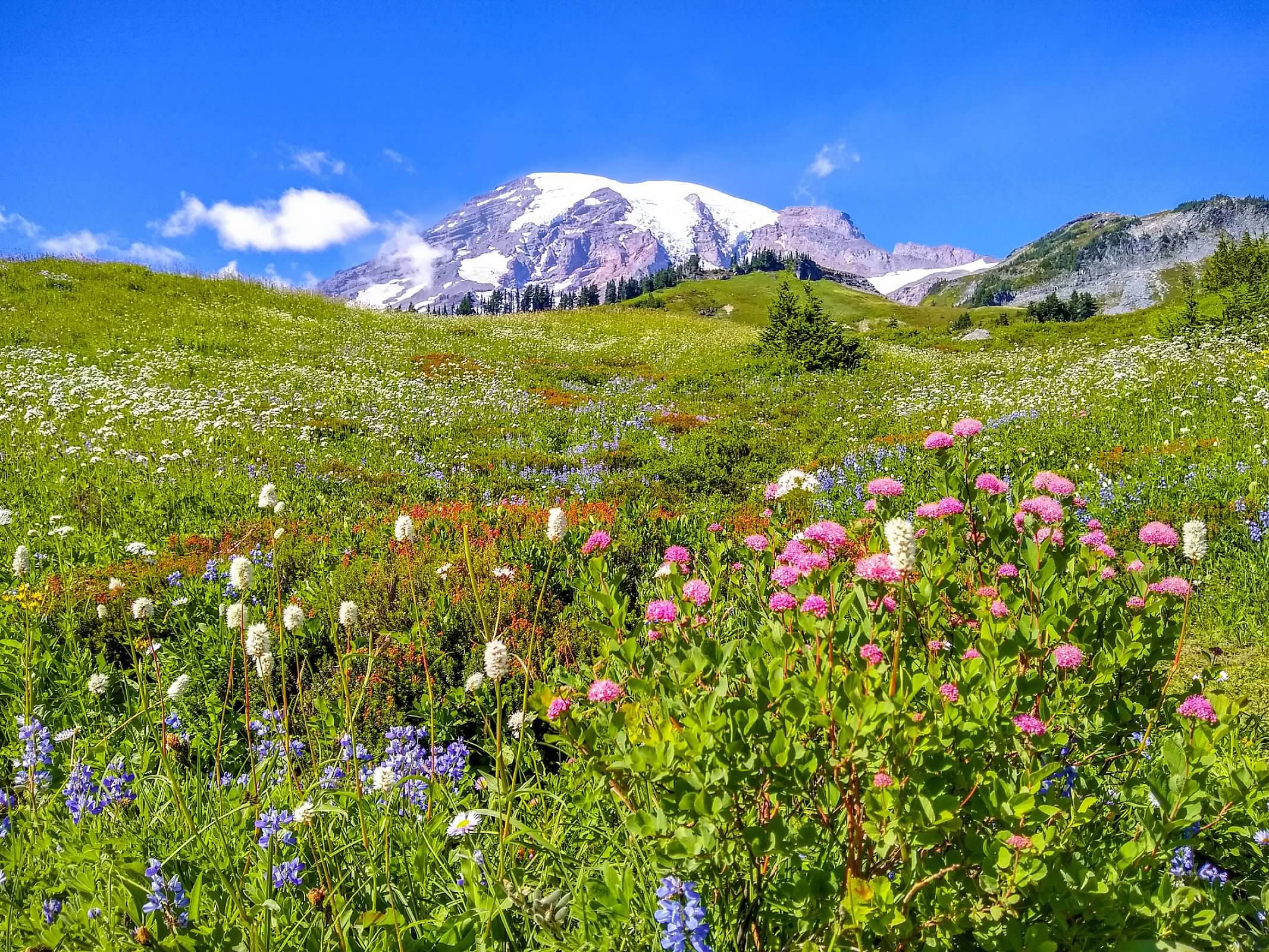 5.)   Wildflowers in Mt. Rainier  (Late June-August) 
Mount Rainier National Park (U.S. National Park Service) (nps.gov)
In my opinion, I saved the best blooms in the State for last. John Muir, a famous explorer, and conservationist who is synonymous for helping to raise awareness to establish many of our treasured national parks was quoted crediting Mt. Rainer as "the most luxuriant and the most extravagantly beautiful of all the alpine gardens I ever beheld in all my mountain-top wanderings." These words are carved into the steps that lead up to Paradise and just beyond that are Trailways that lead to the most awe-inspiring wildflower meadows in the state. Unlike the other flowers I have mentioned this one is curated by Mother Nature and everywhere you look there are Avalanche Lilies, Beargrass, Lupine, Paintbrushes, Asters, Daisies, Purple Shooting Stars and so many other floral varieties intermingling with one another and blanketing the grounds surrounding Mt. Rainier. The Paradise area offers many hike views of Mt. Rainier's wild splendor from the 5.5 mile Skyline trail but even if you just choose to walk the portion of the trail leading away from the visitor center and toward Myrtle Falls you will be visually rewarded with wildflowers. Keep in mind you are kindly asked not to meander through the flowers and to stay on the marked pathways. You can learn more about visiting Mt. Rainier through the National Parks page at:
One of the major benefits of living through the rain and seasonally overcast weather is that Washington is the perfect hub for floral vegetation to grow and flourish and because of that there are many beautiful places to visit that are alive with blooms. If this list inspires you to visit any of these bloom locations or you would like to share your favorite blooms, please tag us on Instagram @windermeremillcreek or on twitter @wremillcreek
written by Kerriann Jenkins
Creative Team