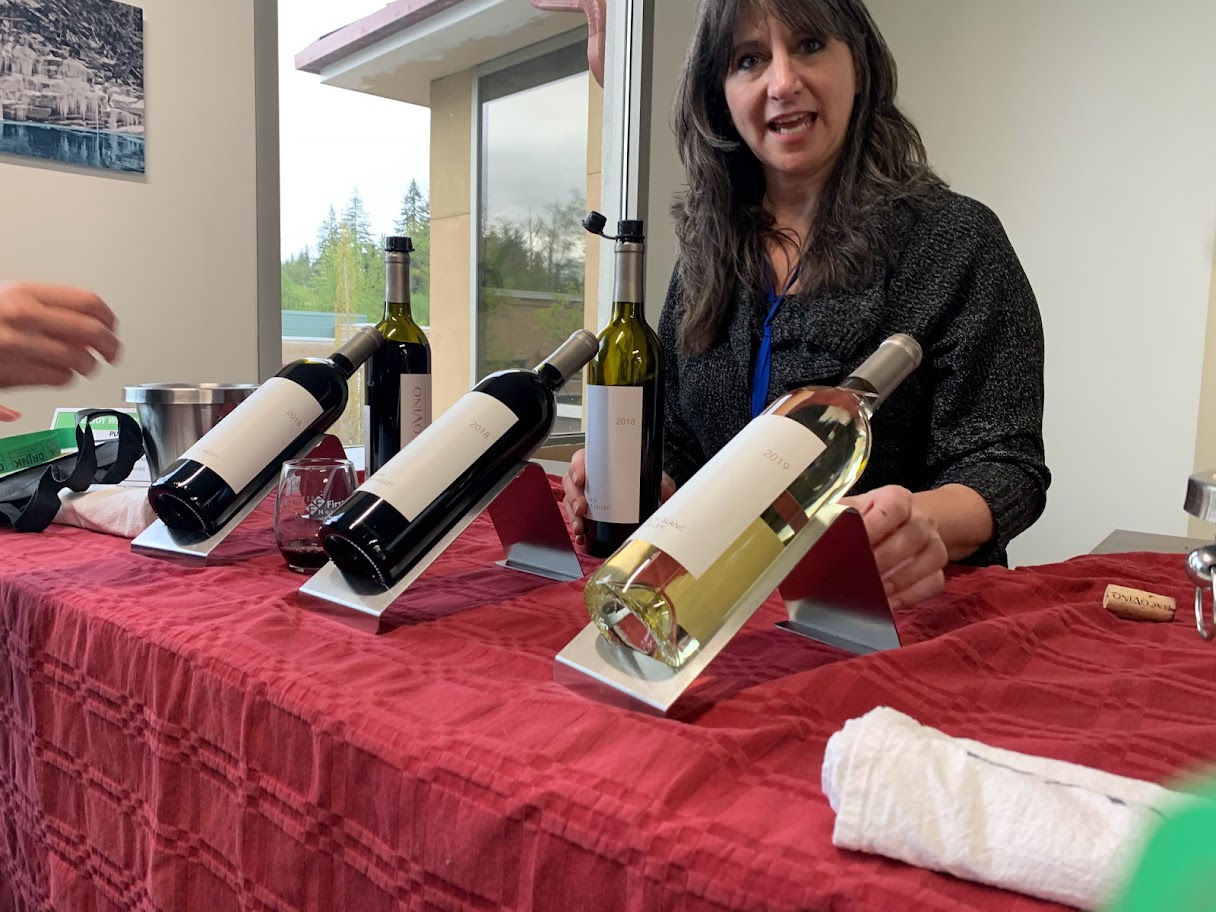 BACOVINO sideways and underlined runs the left-hand length of an otherwise clean wine label. It is a Portuguese word that "speaks of the legendary culture of the vine and the mod of extracting its precious juice." Reading through the Bacovino STORY page let me know that Wine Maker & Founder Randy Brooks has a passion for the symbiotic relationship between cultivated land, crop, harvest, and production and is mindful of the impact human creation has on the environment, so his brand practices and promises sustainability. I was surprised to learn that Bacovino had opened just before the pandemic. While many doors shuttered closed for the last time, they found a way to grow. With grapes sourced locally from Eastern Washington, I was excited to see how Brooks' mindfulness and boldness played out when bottled.
Tasting notes:
Kerriann: This was my first stop of the event and I had a 2018 Sangiovese. I am glad that I did not miss out on this wine because it was a great one. It poured a brilliant garnet color and smelled well developed with an unobtrusive light cherry sweetness present. This medium bodied wine tasted of juicy red fruits and carried into a nice acidity that was balanced out by bold tannins.  Baccovino's 2018 Sangiovese was well rounded and easily one of my favorites of the wine walk.
Chasity: This was also my first stop, and I had the 2019 Signature Sauvignon Blanc as I am more of a white wine connoisseur. I give these 3 stars out of 5. I enjoyed the smooth woodsy taste it provided and how it was not on the sweet side. It was well balanced, and I would drink more than one glass.
Cavelero Hill Cellars was harder to find information about before attending the event; skimming down their Facebook feed I was able to learn that they are a wine house located in Lake Stevens and they had their initial startup in 2013. They also have two winery cats named Neo and Triniti which as an animal lover I was happy to see.
Tasting Notes:
Kerriann: Cavelero Hills was my second to last tasting of the night. I arrived looking like something the cat had dragged in. Sodden with rain and holding on to my hat. Chuck Hagglund warmly greeted me and took the time to chat while he poured his offerings. He shared that his red grapes were sourced from Eastern Washington and his whites were from Oregon. I had a white wine followed by a preview of a Cabernet Franc named 100 Buck Good Stuff Chuck which I noted was "really good." I would love to make it out to Lake Stevens to give this winery a proper sit and sip review because the hospitality given in a modicum of an interaction was off the charts.
Cedergreen Cellars is a family operated winery owned by Kevin & Julie Cedergreen. From the homepage on their website, I was clued into the fact that they craft great pairing wines by the leading sentence "if you're passionate about food, you're going to love our wine." Kevin spent his childhood harvesting on his family's orchard in Eastern Washington and has gained a winemaking education through UC Davis as well as working harvests in Washington and New Zealand. The Cedergreens source their grapes from many notable vineyards throughout the state.
Tasting Notes:
Kerriann: Unfortunately, this was a winery that I missed out on.
Dahlman Cellars mission statement is "seriously great wine for less serious people." It is branding that carries over from their website to their Instagram to their Facebook page. Scrolling down their feed I had a laugh at their inspirational post about fitness: "did you know 14 muscles are activated when opening a bottle of wine? Fitness is my passion." I was also surprised to see they had shared and shouted out other wines and wine makers they were sipping on.  Jim & Andrea Dahlman began dabbling in garage production wine making in 2013 and grew their non-serious hobby into a passion project alive with "innovative and experimental fermenting." Dahlman Cellars wine is made in Woodinville and crafted from both notable and smaller vineyards.
Tasting Notes:
Kerriann: Unfortunately, this was a winery that I missed out on.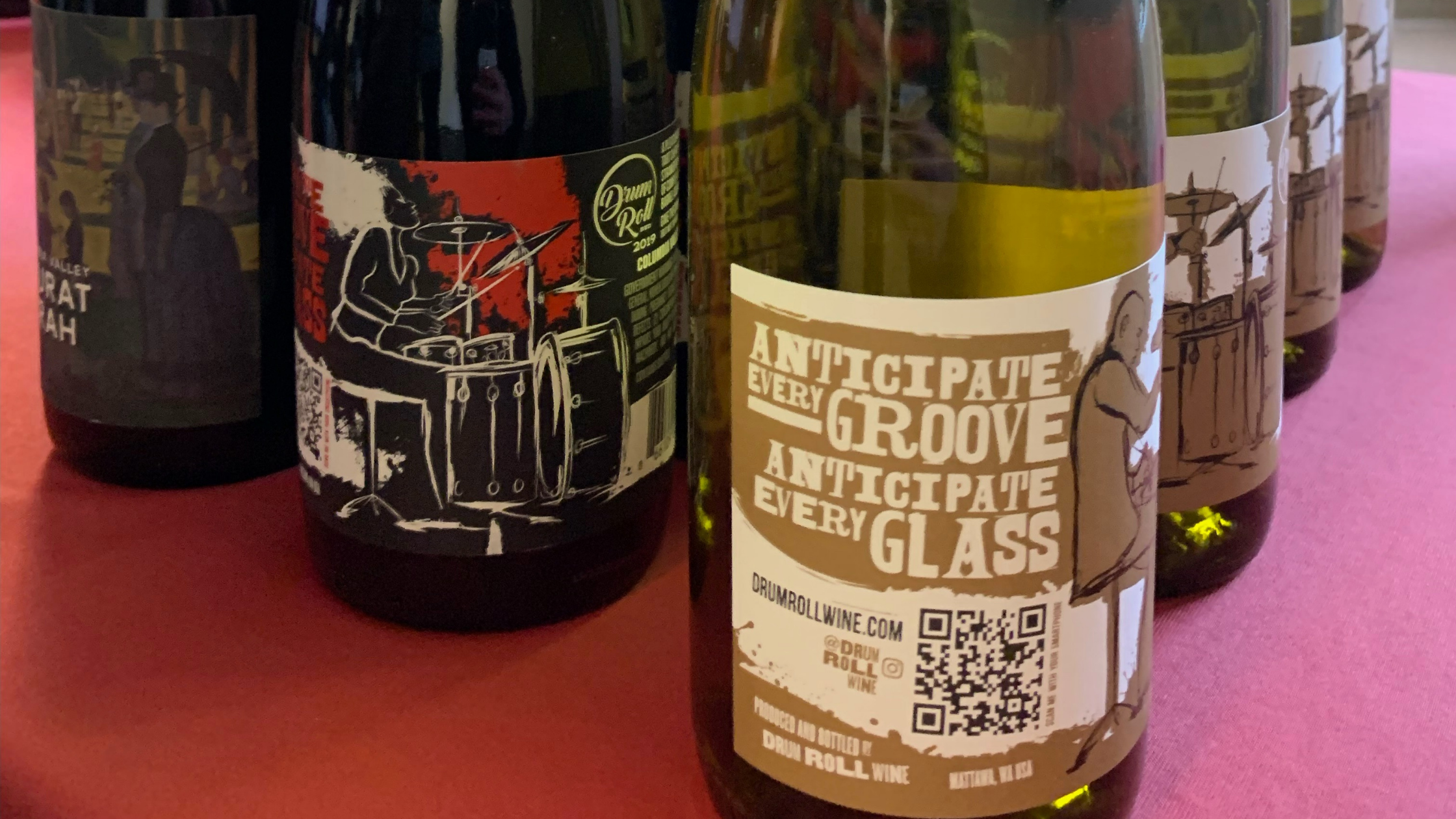 When faced with job loss not many would turn to the bottle quite as metamorphically as Matt Frazier did. After being laid off from a long-term job Matt Frazier, Co-Founder and Wine Maker behind the brand Drum Roll moved forward to new pursuits. He combined his love for his family, music, art, and fun with wine making. Along with his wife, Sundee, and their daughters, Matt Frazier and family grant you a backstage pass to their wine and a glimpse into their lives. Visit their website to see all their passions including a few fun family music videos.
Tasting notes:
Kerriann: This was my second stop of the day. I had the 2016 Drum Roll Red. I was told by Matt Frazier who was the pourer for the evening that it was a blend of cherry and strawberry. It poured a brilliant red and smelled softly sweetened. This red blend drank sweet and rolled through layers of light acidity and dryness. At the end of the event I rushed back to purchase this wine but I had missed curtain call.
Chasity: Kerriann and I started out at the same wineries but quickly went our separate ways, haha…. This was also my second stop. I tried their 2020 Drum Roll White Wine and it was very delightful I must say. I enjoyed the fruity, smooth crisp taste it provided on my pallet. It was very refreshing with notes of white grapefruit, pineapple, and peach. I give this a 4 star and it is one of my favorites!
Forgeron is French for blacksmith, and it is in the remains of a re-forged old blacksmith building that Forgeron Cellars opened a winery and tasting room in downtown Walla Walla. Forgeron Cellars' mission is to produce artisan wines that are site-specific and varietally-correct to pay proper homage to the vineyards they credit as being responsible for 80% of winemaking. With a team of Founders and newly seasoned Wine Maker Cody Janett at the helm Forgeron Cellars has achieved critical acclaim and expanded to a tasting room in Woodinville.
Tasting notes:
Kerriann: At this stop I had the 2017 Imaginarium Red Blend. This wine was another one that was easy to drink. It smelled sweet on the nose. It presented itself fruit forward on the tongue. The blend tasted full like chocolate covered strawberries softened by savory light tannins.
The word Martedi is Italian for Tuesday. As noted on their Yelp review page this word holds special importance to the brand because it "commemorates the fact that for years all of the Miglino brothers would get together on the second Tuesday of each month to visit, eat pasta, drink wine, play cards, lie to each other, smoke cigars, discuss family and just spend time together." It is their familial closeness that is displayed across their Instagram page along with an insight into their production crushing. Their 2016 Cabernet Sauvignon was the last wine I got to taste. By that time, I had retreated to my go to order, and I was not disappointed with the wine in my glass.
Tasting notes:
Kerriann: This was my final stop made in a mad dash. I had a 2016 Cabernet Sauvignon. I noted that it was bold, deep, dark, and smooth. If you are a person who likes a Cabernet you would not be disappointed with this one.
As noted on their website Michael Florentino began as a digital catalog winery. They made small batches for private label wine shops. Owner Brad Sherman studied at the UC Davis Vinology program and through volunteer work with local wineries and his time as VP at the Boeing wine club he fueled his own passion to begin making wine. Michael Florentino specializes in Spanish and Italian varietal wines and now has a tasting location and winery in Woodinville.
Tasting notes:
Kerriann: Unfortunately, this was a winery I missed out on.  
Chasity: I tried the 2013 Michael Florentino Sangiovese. I enjoyed the woodsy barrel taste it gave, very nice dark red blend. As I mentioned before I enjoy white wine but a good red blend is hard to turn away. I would purchase a bottle and for the price you could buy more.
Naches Heights Vineyard and Winery is a family owned and operated business based out of Yakima. Owner Phil Cline is a third-generation farmer who entered the wine business in 2002. Refreshingly although Cline was born into farming land that has been in his family for over 75 years, he credits his team with the success of winemaking and helping to propel his business venture forward. Naches Heights area was established as an American Viticultural Area in 2012 lending even more credibility to the NHV brand.
Tasting notes:
Kerriann: I tried the 2015 Crooked Red Blend. This blend comes bottled and canned. I was told by my pourer that this blend is a mix of a Tempranillo, Malbec and Syrah. This wine was smooth and full. This wine was complex but balanced and I could see it being a good on the go drink.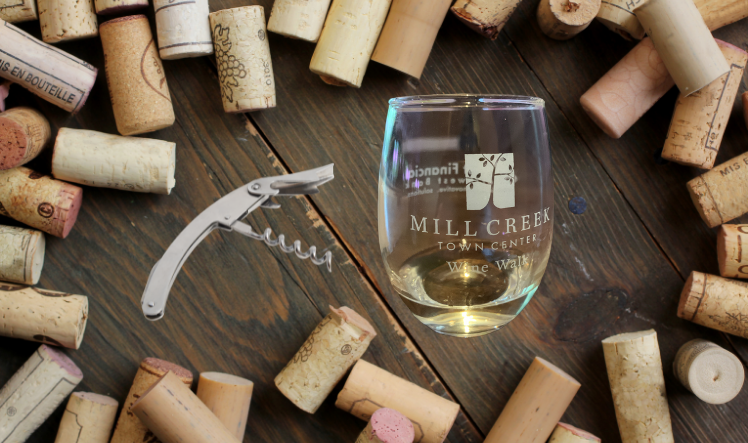 Four strangers from around the world came together in a happenstance meetup at the Owen Roe crush facility and formed a bond that would lead them to create the wine brand Sin Banderas. Sin Banderas is Spanish for without flags and pays homage to its four owners Jacki Evans, Nacho Licea, Elyse Woda and Francois Dereeper. As their website states the brand was "cultivated by a Mexican, vinified by a Texan, cellared by a Frenchman, and distributed by a Washingtonian." Together these four friends craft small batch wines with extra attention to detail. As of right now they do not have a tasting room so the only way to get your hands on their wares is to visit their website or one of the restaurants and boutiques that stock them.
Tasting Notes:
Kerriann: At this location I had the 2021 Rhone Rose. I remember thinking this would be a good summer or bridal wine. It smelled floral and bright. It was light and airy, crisp, and fresh. I don't reach for a Rose often but this was a good one.
Chasity: This was one of my lasts stops and I tried the 2020 Rhône Rosé, I love a good Rosé. This must be one of my favorites, 4 stars! I appreciated the Rose gold hue it gave, and it was not too sweet or dry, it was the perfect balance for me. I would buy a bottle, or more….
I am a sucker for a love story and Structure Cellars had its beginning while building love and a brand from the ground up. I would strongly encourage anyone with an interest in this brand to head over to their about us section on their website to read their story as told by the winemaker's wife Brandee. Their brand gained its name during a very human moment of overwhelming frustration; faced with life challenges Brian and Brandee Grasso came together in the midst of the rubble of their stripped to the studs fixer upper and sought comfort in each other over a glass of Brian's first crafted wine. In Brandee's words "we sat down on the floor among the sawdust and sheetrock and opened a bottle of the 2008 Syrah (the first wine he ever made). The flood gates opened and I spewed out a string of the day's house misadventures while gulping down my tumbler of wine. Brian listened, nodded and showed genuine concern. When he finally did speak he said you know, this house is a lot like this wine, it's got good bones… it's got good structure, it just needs some love. Our house may have been falling down, but I could see the irony of the situation. This was truly the beginning of STRUCTURE CELLARS."
Tasting Notes:
Kerriann: At this venue I tried the 2018 Foundation Syrah. It poured out a deep plum color and smelled like fruit and leather on the nose. This one tasted dark, earthy, robust, smoky and VERY dry. When I tasted it I thought it was a wine that my older sister would have LOVED.
Chasity: At this tasting spot I tried their 2021 Oculus Viognier (sounds like it came out of a movie). I would say this one was very, very smooth, with a little crisp and dry taste, perfect balance. I would have to say this one might of been my favorite out of them all, 4 Stars!
Owners Chuck and Pam Hundley credit their interest in wine to a 2006 Porsche Club tour through Yakima Valley wine country. Their initial enthusiasm led Chuck Hundley to enroll into a wine program at Walla Walla CC and helped the Hundleys to switch lanes and head toward a new endeavor. Tricycle Cellars was formed in 2011 and released their first vintage, a 2013 Cabernet Sauvignon from the Rocks District of Milton Freewater that won double gold at the Seattle Wine awards. Since then, Tricycle Cellars has continued to be a family owned and operated winery and is currently carried by Double Barrel Wine Bar in Snohomish and Heritage Restaurant and Bar in Woodinville with some of their proceeds being donated to mission work.
Tasting Notes:  
Kerriann: Tricycle Cellars was the 8th stop of my night. I was excited to finally see a Cabernet on the docket and they had featured two. I ended up asking for the 2016 Cabernet Sauvignon and next to it I wrote and underlined the word AMAZING! Cabernets are my comfort zone, if I don't know what to get I usually leave with a cabernet or a red blend in hand. The wine itself poured a traditional ruby red and smelled like smooth dark fruit. This was a fruit forward presenting Cab that finished with a rich velvety texture. It encapsulated everything that I like about Cabernet Sauvignon.
Red Earth wines is a brokerage of wines. The company was established in 2012 by Martin and Lisa Gorman who moved to Seattle from Melbourne Australia. Their mission was to bridge the gap between the impressive wine catalogue that Australia had to offer and the Australian wines that had made their way to the states already. Their goal is to represent wines that encapsulates the essence of Australia- it's red centre, its dryness and its richness to bring the US wines Australians are proud to pour.
Tasting Notes:
Kerriann: This was my 7th stop of the evening and it was at this point that I got a little more adventurous and decided to finally try a white. I let the gentleman pouring my wine know that I was a red drinker, but I wanted to try a white and was leaning toward sampling "The Wattle." He told me if I really wanted to try something a little wild that I could have fun with I should try the 2012 Mitchell Watervale Riesling. I did and I was pleasantly surprised with my experience with it. The 2012 Mitchell Watervale Reisling poured out a light golden hue and smelled of fragrant summer citrus with a hint of a floral character note. It ended up tasting a lot like it smelled. There were obvious notes of citrus and I had written down that it was reminiscent of a soft champagne, meaning there was a light dryness but I felt that the complexity of the flavors overpowered the dryness and remained on my tastebuds long enough to make them water.
Wit means mental sharpness and inventiveness; keen intelligence; having a natural aptitude for using words and ideas in a quick and inventive way to create humor. Wit is something that is often passed between friends, and it is this thoughtful, meaningful interaction with a lightness of mood and certain elegance of style which encapsulates the spirit of WIT Cellars. Wit Cellars was started by three friends Gina Adams, Flint Nelson and Carolina Warwick. Together their mission is to create wine that will be a catalyst to encourage family and friends to come together and have meaningful conversations shared over a bottle of Wit Cellars wine.
Tasting notes:
          Kerriann: Unfortunately, this was a winery I missed out on.
If you have made it all the way down the list of featured wineries, you have probably been clued into the fact that Woodinville Ciderworks is the only sanctioned non-wine offering at the event. Woodinville Ciderworks specializes in small batch hard ciders that are balanced, nuanced and food-friendly hard ciders from Pacific Northwest Apples. All their hard ciders are off-dry, highly drinkable and gluten-free. Owner Leroy Radford left behind his title as winemaker and closed shop at his Flying Dreams winery to become Owner and head of production at Woodinville Ciderworks which was established in 2015 and has gone on to become a notable Pacific Northwest cider brand.
Tasting Notes:
Kerriann: I should preface this review by saying I am admittedly not a cider drinker, but on our 4th  stop of the day I decided to branch out and try Red Flesh. Red Flesh poured out a bright coral color and remained lightly frothy at the top while I sampled it. The best way I can describe this drink is that it was bright, fresh, crisp, very tarte and it had an earthy quality to it that made it seem less processed than previous ciders I had tried. I think this cider would have been great accompanied by a slice of Brooklyn Brother's Pizza. I could also envision myself adding a shot of fireball to this cider on a cold fall night and waiting for the warmth to overtake me but on its own it was a bit too puckering for me.
Stay tuned for our next wine tasting! We are having fun sharing our tastings and experiences with you. We are all about our local wines and community!
Kerriann Jenkins
Receptionist/Creative Team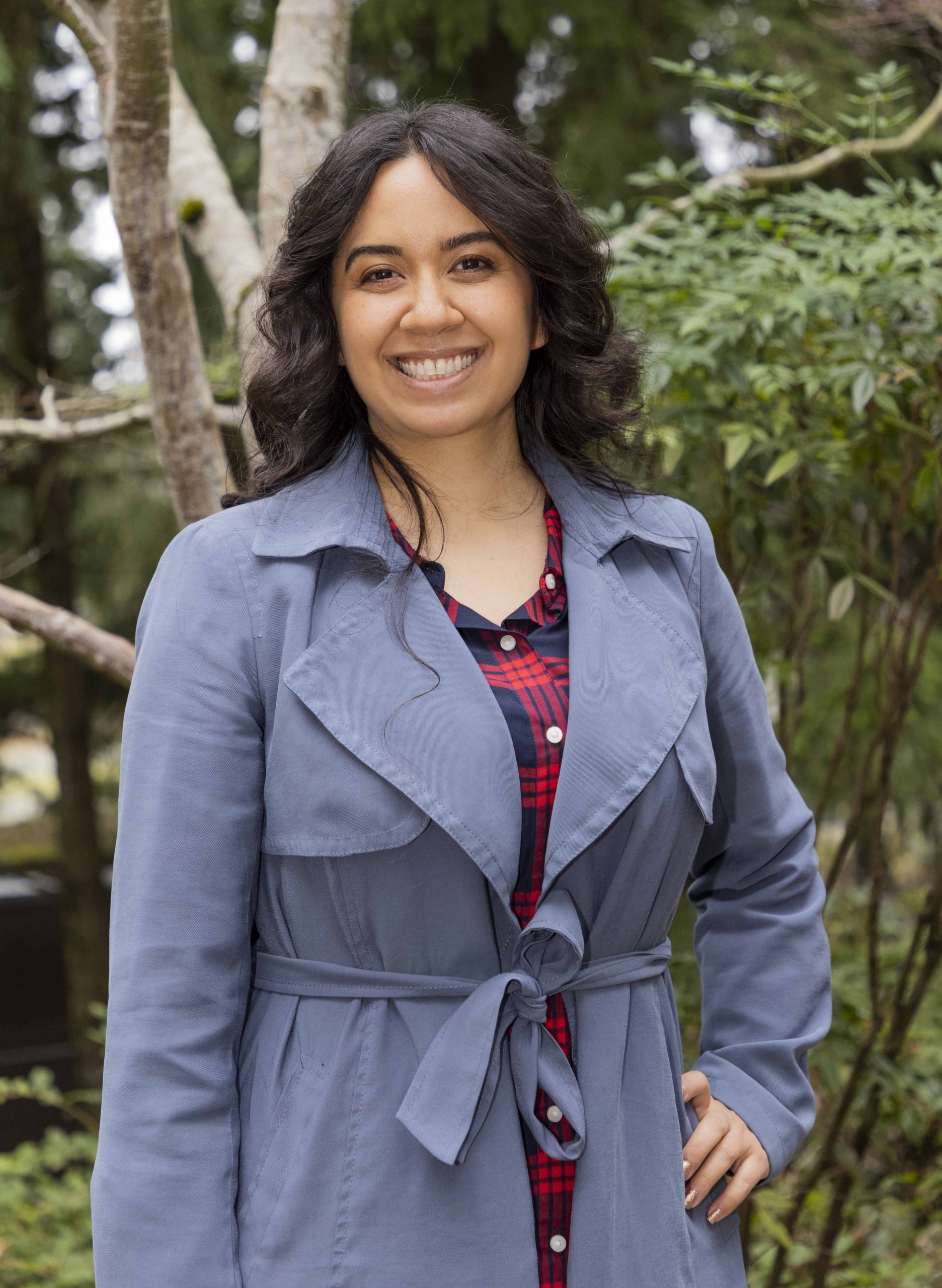 Chasity Rodriguez
Social Media Director/Creative Team