Fall is upon us whether we like it not, I preferably am not ready because I LOVE summer in the PNW! Fall is perfect though for a cozy cup of coffee or tea and a good book to read. I have some really great books picked for you, one is a thriller and the other takes place in London during WWII.  As always let us know what you think!
Visit there site here, www.sno-isle.org/mill-creek

Girl, Forgotten Girl, by Slaughter, Karin
A small town hides a big secret…
Who killed Emily Vaughn?
Prom Night. Longbill Beach, 1982. Emily Vaughn dresses carefully for what's supposed to be the highlight of any high school career. But Emily has a secret. And by the end of the night, because of that secret, she will be dead.
Nearly forty years later, Andrea Oliver, newly qualified as a US Marshal, receives her first assignment: to go to Longbill Beach to protect a judge receiving death threats. But Andrea's real focus isn't the judge – it's Emily Vaughn. Ever since she first heard Emily's name a year ago, she's been haunted by her brutal death. Nobody was ever convicted – her friends closed ranks, her family shut themselves off in their grief, the town moved on – so the killer is still out there. But now Andrea has a chance to find out what really happened…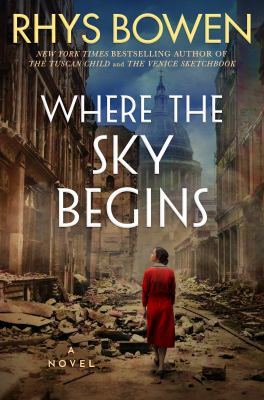 Where the Sky Begins, by Bowen, Rhys
A woman's future is determined by fate and choice in a gripping WWII novel about danger, triumph, and second chances by the New York Times bestselling author of The Venice Sketchbook and The Tuscan Child.
London, 1940. Bombs fall and Josie Banks's world crumbles around her. Her overbearing husband, Stan, is unreachable, called to service. Her home, a ruin of rubble and ash. Josie's beloved tearoom boss has been killed, and Josie herself is injured, with nothing left and nowhere to go.
Evacuated to the English countryside, Josie ends up at the estate of the aristocratic Miss Harcourt, a reluctant host to the survivors of the Blitz. Awed as she is by the magnificent landscape, Josie sees opportunity. Josie convinces Miss Harcourt to let her open a humble tea shop, seeing it as a chance for everyone to begin again. When Josie meets Mike Johnson, a handsome Canadian pilot stationed at a neighboring bomber base, a growing intimacy brings her an inner peace she's never felt before. Then Stan returns from the war.
Now a threat looms larger than anyone imagined. And a dangerous secret is about to upend Josie's life again. Her newfound courage will be put to the test if she is to emerge, like a survivor, triumphant.
Enjoy the reading picks!
Blog written by Chasity Rodriguez