A Washington State Daffodil Guide
Washington State has a reputation for wielding moody gray skies. Given that, you may find it odd to learn that Washington is the largest supplier of daffodil bulbs and daffodil flowers in the United States. Such a sunny dispositioned flower may seem out of place here, but they thrive in Washington. Below you will find a Washington State Daffodil Guide discussing where to see them and how to grow them.
When Daffodils Begin To Bloom
Daffodils typically bloom from late winter to early spring and can last for a few weeks. If you are looking to see daffodils this bloom season, you are in luck! There are plenty of great places to find them. One of the best spots is in Skagit Valley.
Daffodils in Skagit Valley
Although Skagit Valley is known for their Tulips, they also grow around 1,000 acres of daffodil fields. These bright fields start shining while the weather is still cool in the early spring. The fields are private, which most likely explains why the daffodils don't attract the same crowds the Tulips do.
While you can't traipse through the fields, you can view the daffodils from the roadside. Conveniently, RoozenGaarde has an interactive bloom map you can view to see where the flowers have blossomed before embarking on your road trip. 
La Conner Daffodil Festival
If you are looking for a more immersive way to see daffodils head over to the La Conner. The city holds an annual Daffodil Festival which includes a Daffodil Parade, a Daffodil Pet Parade, a Daffodil Photo Contest, and other daffodil themed delights. Check out their event page for more details.
90th Annual Daffodil Festival Grand Floral Parade
Another interactive daffodil experience can be found at the 90th Annual Daffodil Festival. This unique event is hosted by four cities. On April 1st, 2023, the parades will begin as follows: Tacoma 10:15, Puyallup 12:45, Sumner 2:30, Orting 5:00. For more information visit the event page.
Grow Your Own Daffodils
Of course, there is another way to enjoy daffodils, grow your own! Planting daffodils is a great way to add a vibrant splash of color to your garden! The best time to plant daffodils is in the fall, a few weeks before the first frost, when ground temperatures are around 60-65 degrees. You'll want to find a spot that gets plenty of sun. When planting, dig a hole a few inches wider and deeper than the bulb, with the pointed end facing up. In the right conditions a daffodil will rebloom annually. If you are looking for larger blooms, you may want to divide and replant your daffodils every three to four years, as this helps to increase the number of blooms each year. If you have a variety that is not a common one, I would recommend consulting with a local nursery or gardening expert for advice on how often to divide and replant them.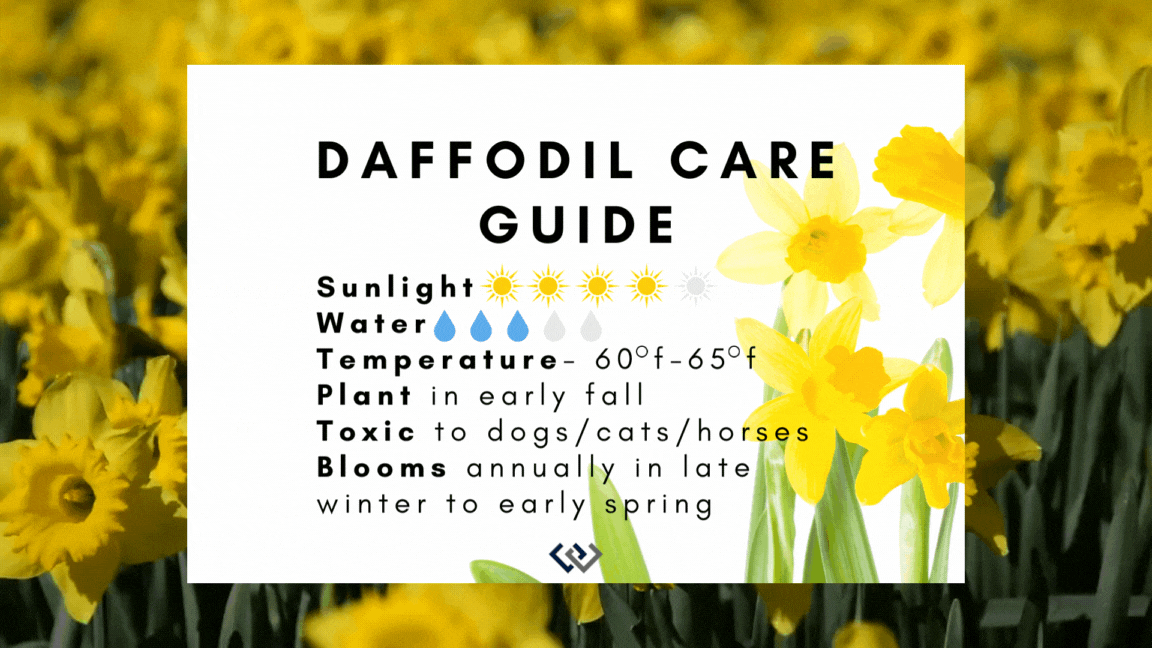 Daffodils Are The First Sign of Spring!
Daffodils are a beautiful signifier that spring is nearing. I grew up driving through the Skagit Valley area and I promise their sunlit hued faces are worth seeing, even from a respectful distance! If you are lucky, you may get to see Snow Geese taking flight over the flower fields during your visit! Have fun adding daffodils to your spring garden and activities!
Blog by Kerriann Jenkins