Autumn is the perfect time to fall headlong into a world of fiction, and we've got just the books to sweep you off your feet. 'Happiness Falls' and 'Doppelganger: A Trip Into the Mirror World' are the literary treasures you'll want to cozy up with this season. These stories are filled with intrigue, emotion, and the kind of magic that only fall can conjure. So, grab your favorite blanket and a steaming mug of apple cider, and prepare to lose yourself in the pages of these captivating novels. Visit there site here, www.sno-isle.org/mill-creek

Happiness Falls, by Kim, Angie
"We didn't call the police right away. When Mia's father doesn't come home from a walk in the local nature reserve, she doesn't think much of it. He must've turned off his phone. Or his battery died. Or he probably stopped for an errand-but doing what exactly? Soon more questions arise and it becomes clear to Mia and her family that he is missing. Or is he?"–
"We didn't call the police right away." Those are the first words of this extraordinary novel about a biracial Korean-American family in Virginia whose lives are upended when their beloved father and husband goes missing. Mia, the irreverent, hyper analytical twenty-year-old daughter, has an explanation for everything–which is why she isn't initially concerned when her father and younger brother Eugene don't return from a walk in a nearby park. They must have lost their phone. Or stopped for an errand somewhere. But by the time Mia's brother runs through the front door bloody and alone, it becomes clear that the father in this tight-knit family is missing and the only witness is Eugene, who has the rare genetic condition Angelman syndrome and cannot speak. What follows is both a ticking-clock investigation into the whereabouts of a father and an emotionally rich portrait of a family whose most personal secrets just may be at the heart of his disappearance.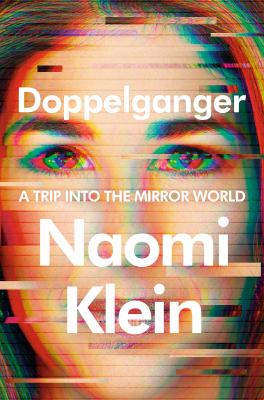 Doppelganger: A Trip Into the Mirror World, by Klein, Naomi
What if you woke up one morning and found you'd acquired another self–a double who was almost you and yet not you at all? What if that double shared many of your preoccupations but, in a twisted, upside-down way, furthered the very causes you'd devoted your life to fighting against?
Not long ago, the celebrated activist and public intellectual Naomi Klein had just such an experience–she was confronted with a doppelganger whose views she found abhorrent but whose name and public persona were sufficiently similar to her own that many people got confused about who was who. Destabilized, she lost her bearings, until she began to understand the experience as one manifestation of a strangeness many of us have come to know but struggle to define: AI-generated text is blurring the line between genuine and spurious communication; New Age wellness entrepreneurs turned anti-vaxxers are scrambling familiar political allegiances of left and right; and liberal democracies are teetering on the edge of absurdist authoritarianism, even as the oceans rise. Under such conditions, reality itself seems to have become unmoored. Is there a cure for our moment of collective vertigo?
Combining comic memoir with chilling reportage and cobweb-clearing analysis, Klein seeks to smash that mirror and chart a path beyond despair. Doppelganger asks: What do we neglect as we polish and perfect our digital reflections? Is it possible to dispose of our doubles and overcome the pathologies of a culture of multiplication? Can we create a politics of collective care and undertake a true reckoning with historical crimes? The result is a revelatory treatment of the way many of us think and feel now–and an intellectual adventure story for our times.
Enjoy my reading choices!
blog written by Chasity Rodriguez
Social Media Director