2023 Pantone Color of the Year Viva Magenta
I remember seeing articles in 2022 about how the world was slowly losing color. When I stopped and thought about it, I realized there was some truth to that. Even I find myself drawn to neutral tones lately. While corporate machines and influencers have muted the world monochromatic, Pantone decided to burst into 2023 with a loud bang! They announced that their Pantone Color of 2023 is Viva Magenta.
What is Viva Magenta?
According to the PANTONE website:
"This year's Color of the Year is powerful and empowering. It is a new animated red that revels in pure joy, encouraging experimentation and self-expression without restraint, an electrifying, and a boundary-less shade that is manifesting as a stand-out statement."
How to encorporate Viva Magenta in 2023
While Viva Magenta can be an intimidating color, there are a lot of fun and temporary ways to add the color into your space in 2023. Whether you choose to bring it into your home or wear it, I believe you will be able to make this color as subtle or as loud as you would like it to be.
Pick a Color Palette with Viva Magenta
A great way to incorporate this trend into your home is to pick a picture with a pop of magenta and build your color story from it. A great color combination to start out with is Windermere blue and Viva Magenta. However, if you were looking for a different color palette I recommend using Photoshop or Canva to build your palette. If you have access to photoshop, simply upload the photo and drag the eyedropper tool across the photo to find your desired color story. If you do not have access to photoshop, programs like Canva (which has a free access version) also will pick out colors from a photo automatically. Have fun playing with colorful combinations!
Go Bold with A Statement Wall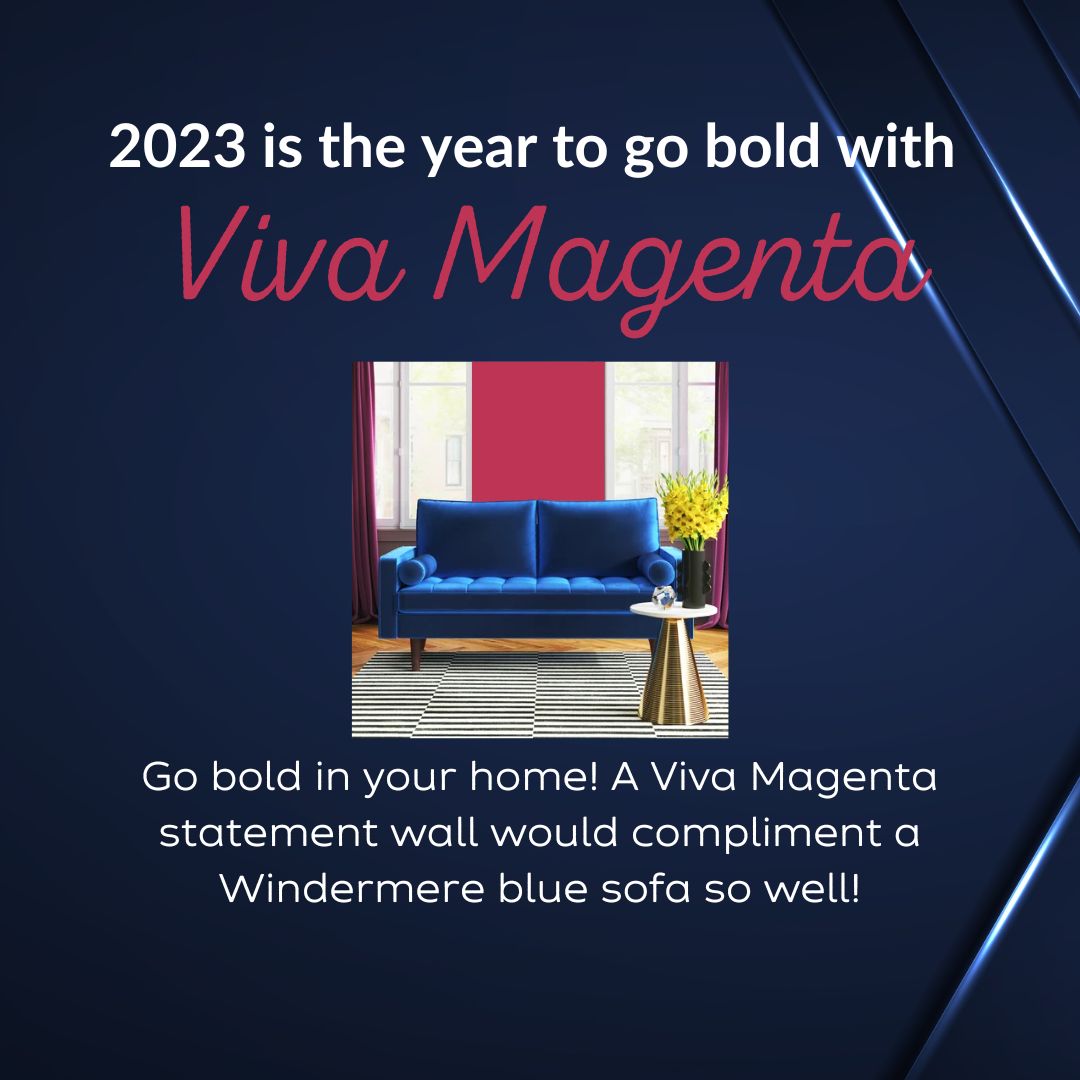 Another easy way to make a big statement in your home is to paint a focal wall with a hue of Viva Magenta.
Purchase Accent Items
I wouldn't say that Viva Magenta is a color that easily translates into most people's spaces. However, if you want to try out the trend you could easily pick out a few accent items like pillows, artwork, and dinnerware, that would be easy to change out.
Wear It!
If adding Viva Magenta into your home is too bold for you another way to try the trend out is to add it into your wardrobe. I personally would go this route, with a nice magenta lipstick or nail polish. But magenta would also look great on a tie! Even exchanging "I do's" would be a fun time to feature the color.
Will You Ring in Your New Year with Bold Colors?
Admittedly, I am not the biggest fan of pink tones. Ever since I came home from university to find that my sister had painted our room, HER room, essentially a shade of Viva Magenta, it has not been a color I gravitate toward. But I could see a time and place to try this trend out coming up in my near future. Will you be bold enough to give it a try?
Kerriann Jenkins