If you are looking for a place to take a summer day trip I've got the perfect place for you to go, Deception Pass State Park. 
Deception Pass State Park is Washington's most visited park for a reason. Its beauty and ease of access are unmatched. First off, this park is spread out across two islands, Fidalgo to the north and Whidbey to the south. Picture this: over 3,854 acres, a marine and camping park with 77,000 feet of saltwater shoreline and 33,900 feet of freshwater combined from three lakes. It's like a playground for outdoor enthusiasts like you and me!
From Highway 20, you enter the park before you may even realize it.
The road twists and winds through Fidalgo Island, taking you right past Pass Lake. Keep your eyes peeled because you might spot some hopeful fishermen float tubing as you cruise by. Oh, and don't forget to check out Rosario Beach and Bowman Bay while you're on this side of the park. They're total gems, trust me! I feel like this portion of the park is often less visited because people breeze past it to get to the bridges but there are some fun things on the Fidalgo end of the park to see. 
A few of the attractions include: The Maiden of Deception Pass, Rosario Beach, Rosario Trailhead, Bowman Bay and Lottie Bay.
The Maiden of Deception Pass is a 24-foot-tall by 5-foot wide sculpture that was created to pay homage to a Samish legend. She's a sight to take in, so don't miss out an saying hi to her. This side is also home to sweeping views that look out over the Sound and toward Whidbey Island. There are plenty of places to have a picnic. The rocky shoreline is dotted with driftwood logs and there are usually tidal pools to explore.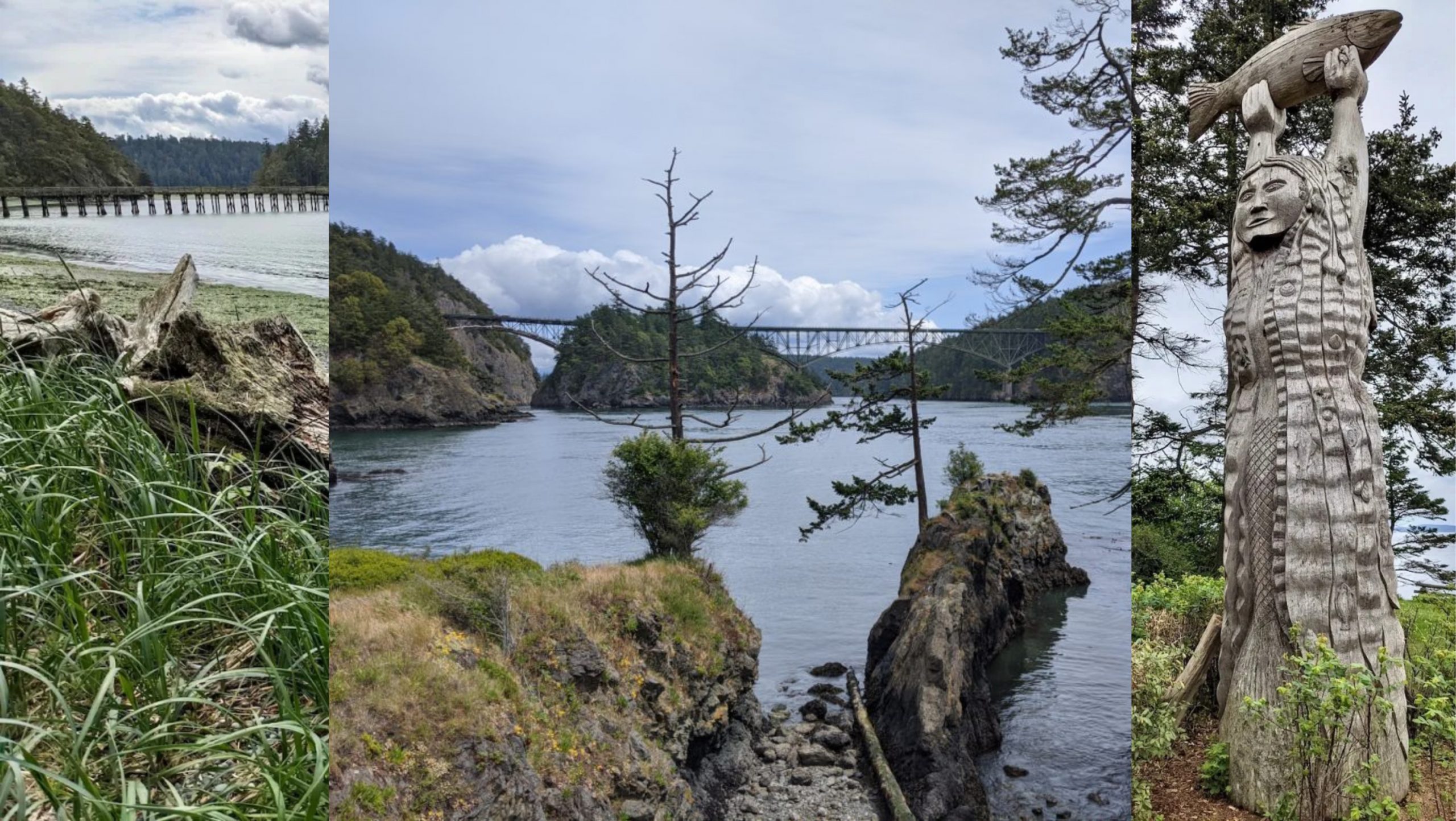 Although the trails are all rated easy to moderate be aware that there are sheer drop-offs around the sea cliffs. The pathways can be slick even on dry days. But as long as you maneuver them with a sure-foot you'll be fine and you can hike while taking in a birds eye view of seaweed swaying with the ocean current. If you hike to Lighthouse point, or further to Lottie Point trail, you will be able to get a view of Deception Pass Bridge.
Now, let's talk about the bridges, because they draw a crowd in their own right. 
Connecting the Fidalgo Island portion of Deception Pass State Park to the Whidbey Island portion is a set of bridges. Canoe Pass lands on Pass Island and connects to Deception Pass Bridge, all of which is collectively known as Deception Pass Bridge. A little fun fact is that as you cross over the midway point of Deception Pass Bridge you cross between Skagit County and Island County.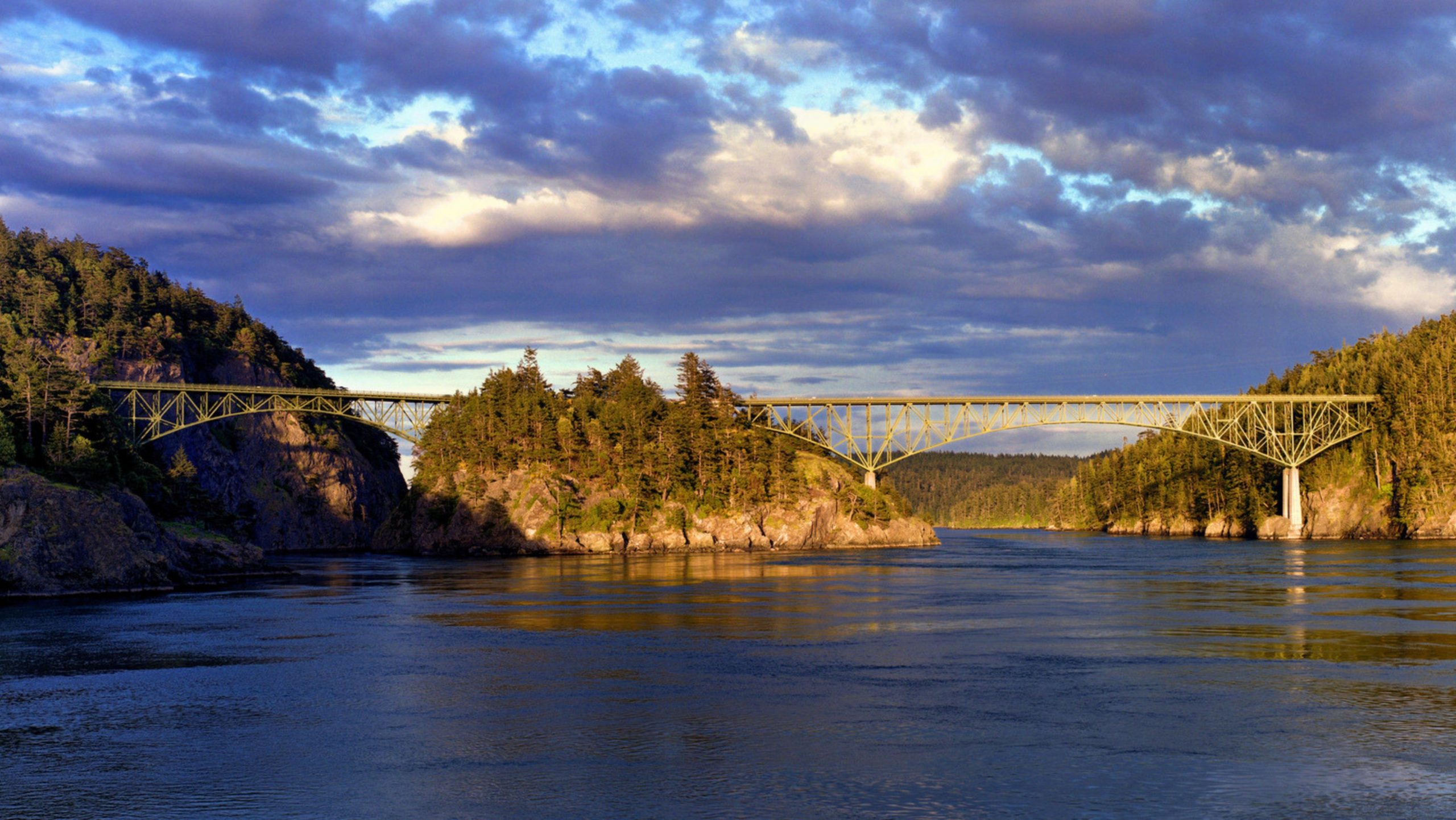 Deception Pass Bridge is as much a part of the landscape of Fidalgo and Whidbey Island as is the land that it connects. The bridge, which is painted an appropriate shade of "Evergreen Green," is a marvel to see. It somehow manages to blend into its environment and stand out at the same time. 
There are several great ways to see the bridge, but my favorite is from the top of it. There are two sidewalks, on either side of the bridge, that run the length of it and can be accessed from a nearby parking lot or a hiking trail. Sometimes you get lucky and get treated to a bird's-eye view of sea life swimming in the area, like seals. If you're extremely lucky you may see a pod of Orcas, or Lady Washington passing through the waterway.
But hold on, we're not done yet. Brace yourself for some coastal magic!
The rocky shoreline of North Beach and West Beach runs alongside the north and west perimeter of the park; during low tide you can walk from one beach to the other and onward to the bridge. There are mountainous rocks to climb and explore tidepools upon. On zero-tide days sandbars appear and offer a whole new fun way to explore sea life.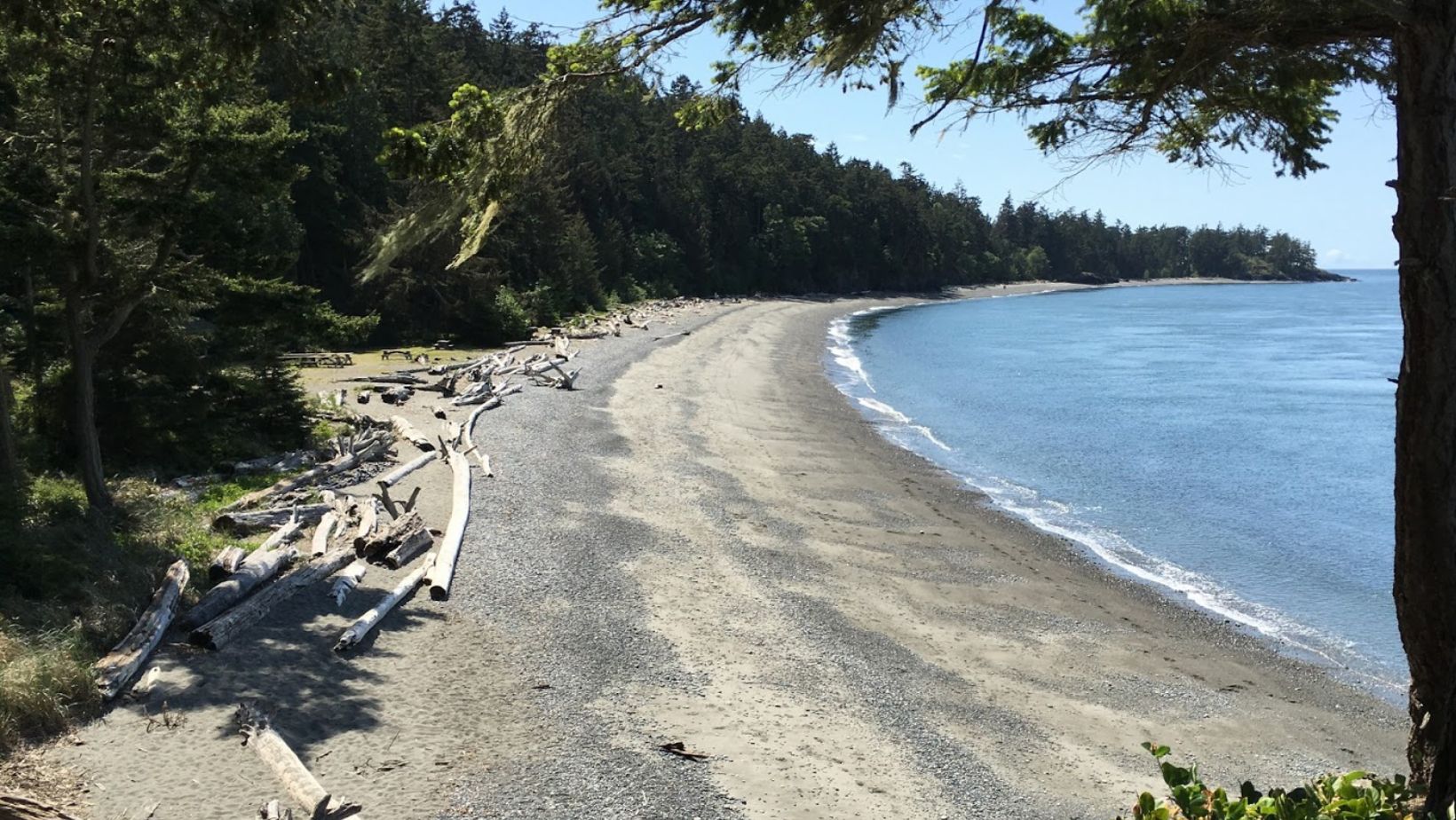 If you're up for an inland adventure, head to the North Beach Trail. This trail will take you all the way to Deception Pass Bridge, and along the way, you'll discover campgrounds, firepits, designated BBQ spots, and more trails to explore. You can end your adventure at the bridge, or continue on to Goose Rock. 
Goose Rock is a popular hike on Whidbey Island.
On this trail you'll gain approximately 484 feet in elevation around Rocky Bald terrain. This hike is rated moderate, but I remember running my way up and back down this path as kid. With a little determination, you'll conquer it like a true champion and be treated to a view of Cornet Bay and Ben Ure Island. I personally like to park at Scenic Vista Parking Lot when I do this hike. But if it is full you can connect to the trail from several other spots going all the way out to Cranberry Lake.
Oh, and now that I've mentioned it, let's talk about Cranberry Lake.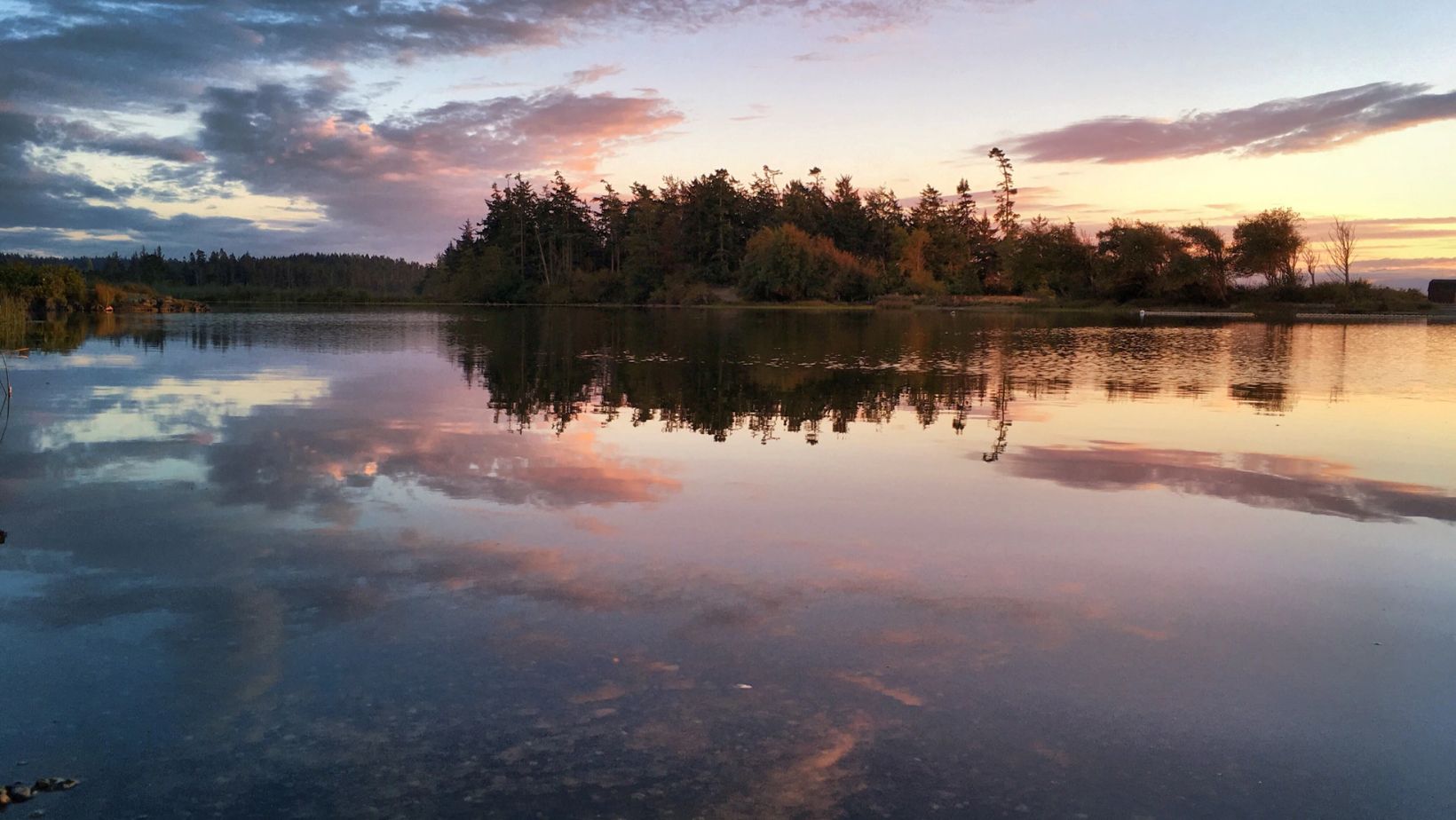 Cranberry Lake fills nearly the entire west inland quadrant of the park. Back in the day, pioneers used it as a cranberry bog. But now, it's a place for swimmers, boaters, and anyone who wants to reel in some freshwater fish. And guess what? Just beyond the lake, you'll find sand dunes and a walking trail lined with ancient gnarled and windswept trees that have seen there fair share of visitors. Once upon a time this area was all sand dunes but these days they're overgrown with vegetation.
I grew up at Deception Pass State Park.
Camping, fishing, hiking, swimming, exploring tide pools, popping Rockweed, playing teeter-totter on driftwood, cracking kelp whips, sparking white rocks, collecting sea glass and watching some STUNNING sunrises and sunsets. There is no place on earth that feels more like home to me these days. It is a hot spot for locals, they'll be the ones who don't look up as NAS Whidbey planes go screaming by, as well as for visitors. It is BEAUTIFUL and a great destination to take a day trip. Though, I would say be prepared to want to extend your stay. Luckily, there's a lot of great camping spots to claim to remedy that!     
What to know before you go to Deception Pass:
A Discover Pass is required at Deception Pass State Park. I recommend you head over to WA Parks to read up on rules and regulations: DECEPTION PASS STATE PARK 
Kerriann Jenkins